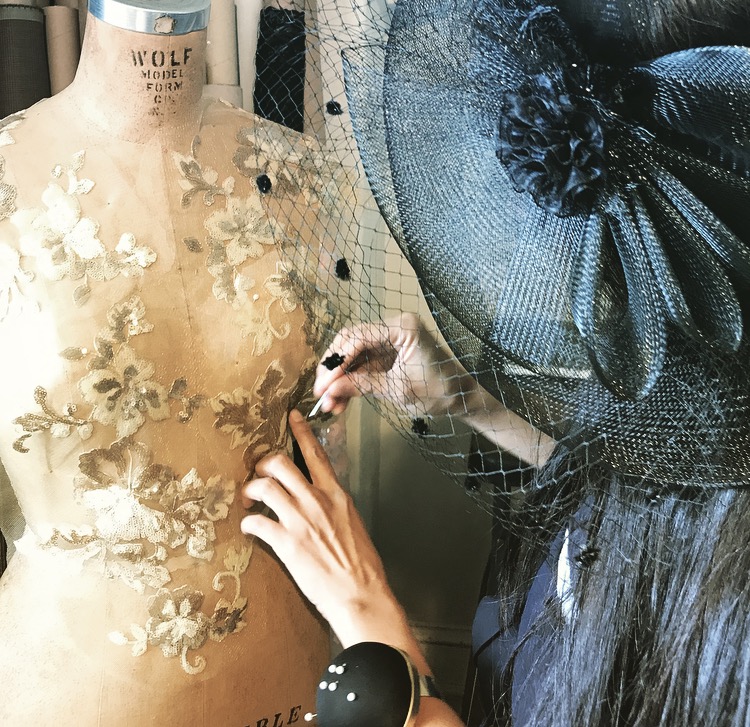 Art of Lace by Elsa Fitzgerald
2018-02-03 21:00:00
The Bromo Seltzer Arts Tower presents "Art of Lace," a collection of pieces inspired by the Kebaya dress originating in Indonesia. The exhibition is on view Saturdays beginning February 3, 2018 in the studio resident gallery (2nd Floor). A free opening reception takes place Saturday, February 10, 2018 from 4:30 to 6:30pm where guests have the opportunity to view the exhibition, meet the artist and enjoy light refreshments. The designer Stacy Stube has worked with two artists in the Bromo Seltzer Arts Tower. Feeding off the artistic expression of artists Rick Hutchinson and Marianna Mills, these pieces seem to have morphed into a shared relationship of the creative juxtaposition of hand-sewn lace and paint on canvas
It was on Bali, the island of Gods, that Stacy Stube's true passion comes alive through fashion. Inspired by the colorful traditional dress, the Indonesian American went on to create the luxury fashion house of Elsa Fitzgerald.
The technique for this fine dressmaking is a process where the fashion artist paints with lace when applying the floral lace motifs to dress form. The pieces are then individually hand sewn together to combine as one garment entirely as a patchwork of lace.
In "Art of Lace," fashion designer Stacy Stube combines the aesthetics of 1920's glamour with traditional Balinese bridal wear. Stacy has spent 17 years working in the fashion industry between the United States, Europe and Asia for brands such as Burberry, Alexander McQueen, Temperley London, Club Monaco and Hugo Boss. She is the founder of luxury fashion house of Elsa Fitzgerald.
The designer has returned to her hometown of Baltimore, Maryland to revive the garment industry through her work between the University of Baltimore Center for Entrepreneurship & Innovation and the Maryland Historical Society - Costumes Archives.
Elsa Fitzgerald Fashion Film - Tower Raven from Stacy Stube on Vimeo.